Transgender people's access to best-practice health care—sometimes also called gender-affirming care—is increasingly under attack. In response, a growing number of states are taking action to protect access to this medically necessary health care. These "shield" or "refuge" laws can vary from one state to the next, but their primary goal is to protect transgender people, their families, and their medical providers against these ongoing attacks and to protect access to transgender-related health care. For example, if a person travels from a state where transgender healthcare is banned and receives that care in another state, a "shield" law can protect the recipient and/or provider of that healthcare against civil or criminal charges from the state where healthcare is banned.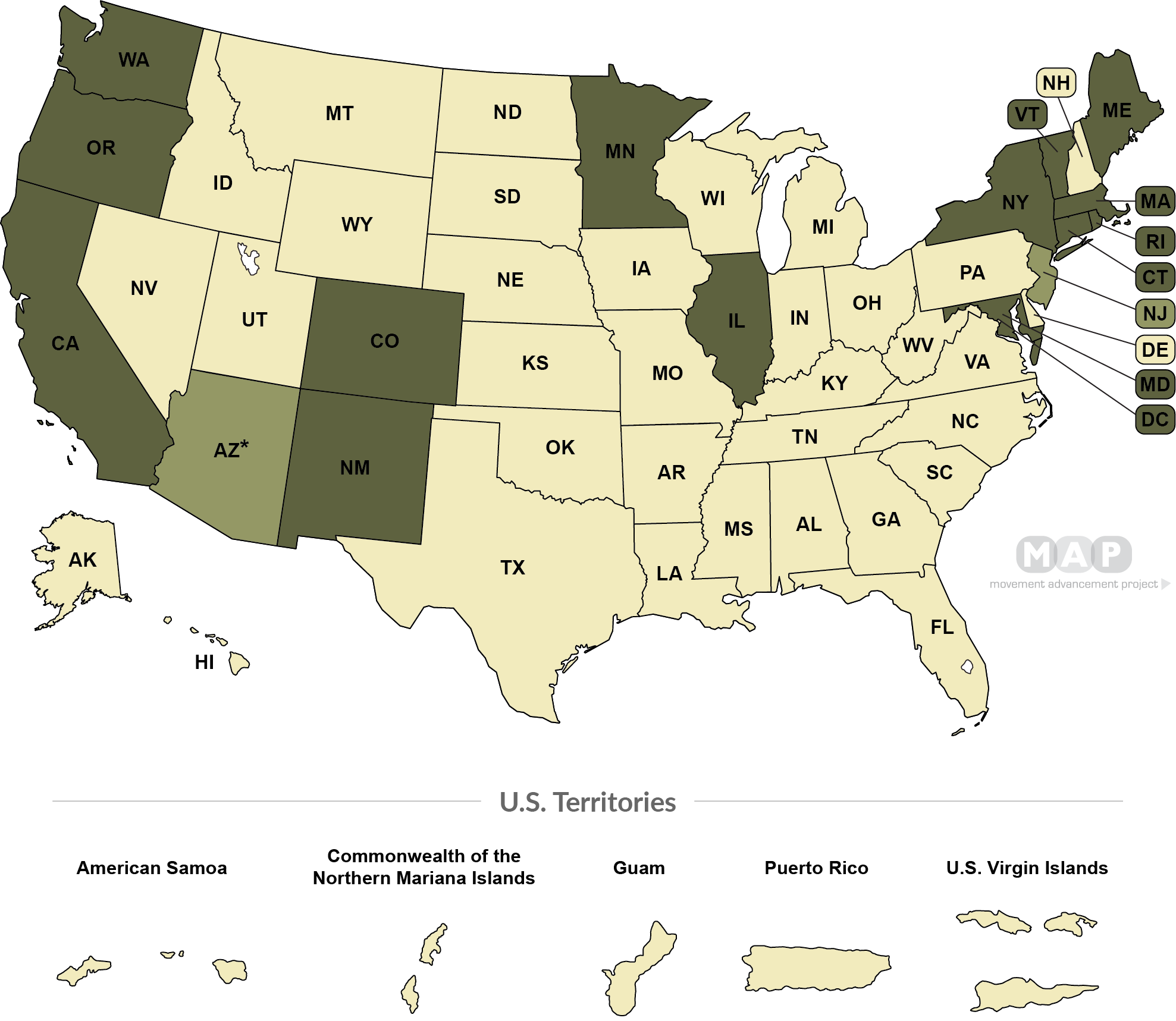 State has "shield" law protecting access to transgender health care

(

9 states + D.C.

)

State has "shield" executive order protecting access to transgender health care

(

1 state

)

No "shield" law or policy protecting access to transgender health care

(

40 states, 5 territories

)
Note: For more information about how these laws vary, click "Citations" to find more information and additional sources.
Recommended citation:
Movement Advancement Project. "Equality Maps: Transgender Healthcare 'Shield' Laws."
www.mapresearch.org/equality-maps/healthcare/trans_shield_laws
.
Accessed 06/06/2023.
---
Percent of Transgender Population Covered by Laws
*Note: These percentages reflect estimates of the transgender population (ages 13+) living in the 50 states and the District of Columbia. Estimates of transgender people in the U.S. territories or under age 13 are not available, and so cannot be reflected here. Population estimates are from The Williams Institute.
27 % of transgender population (ages 13+) live in states that have "shield" law protecting access to transgender health care
3 % of transgender population (ages 13+) live in states that have "shield" executive order protecting access to transgender health care
70 % of transgender population (ages 13+) live in states that have no "shield" law or policy protecting access to transgender health care